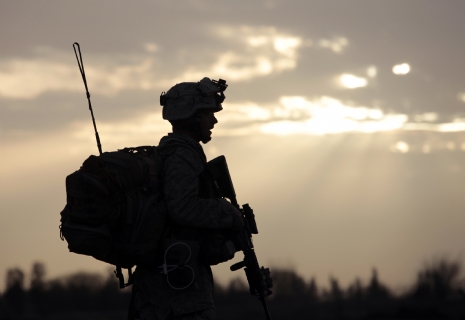 All things military can be fascinating. Air Force jets, tanks and battle gear can capture the imagination of kids and adults alike. Battleground heroism and patriotism are the stuff great stories have been made out of for ages.
War is horrible, but it is an inevitable part of reality so long there is fragmentation and competition in our world and the Torah in this week's parsha sets forth the divine guidelines for a Jewish militia. Whereas these laws are unfortunately relevant in the literal sense, they are also metaphorically relatable to the personal and communal challenges we face on a daily basis.
In fact, when G-d redeemed the Israelites from Egyptian slavery they were referred to as Tzivot Hashem - G-d's Army. Since the era marked the birth of the Jewish nation, their title reflected the fact that to accomplish their new a mission to the world, a military mindset is vital.
Here are two elements of army life that are necessary for Jewish success.
Obedience: Soldiers are trained to follow orders unquestioningly. This is not a cruel ploy to rob human beings of their natural right to investigate and understand, rather it is a crucial ingredient to military success.
The foot soldier's perspective of the battle is extremely limited. Only the commanders who are privy to the finest intelligence and real time updates of the entire front are capable of making the best strategic decisions. During battle there is no time for explanations and the soldier must follow orders first and ask questions much later.
The same is true in Judaism. When G-d offered the Torah to the Jewish people, the magical words of acceptance were "Naaseh Ve'nishma" - "We will observe the commandments (first) and we will understand their meaning (afterwards)." Once you become aware of a Mitzvah that needs to get done, do it! Rest assured that there is inspirational depth and flavor to it all, and with the proper investment of time and effort you will appreciate it all in due time.
Courage: Although soldiers are trained to follow orders, there are times when the realities on the ground call for flexibility, innovation and the courage to make important decisions instantaneously - all while carefully following military protocol and the rules of engagement. The specific tactics of how to accomplish the mission will inevitably change as the battle rages and such flexibility demands much courage.
As Jews, we fight a constant battle against assimilation. It can a personal challenge or a communal one. When unforeseen challenges and opportunities arise we need to have the courage and flexibility to adapt accordingly with speed - all while carefully following the protocol and rules of engagement as they are spelled out in the Shulchan Aruch - the Code of Jewish Law.
We've all been drafted 3,330 years ago. Let's give this fight all we've got.